Metropole Studio Sessions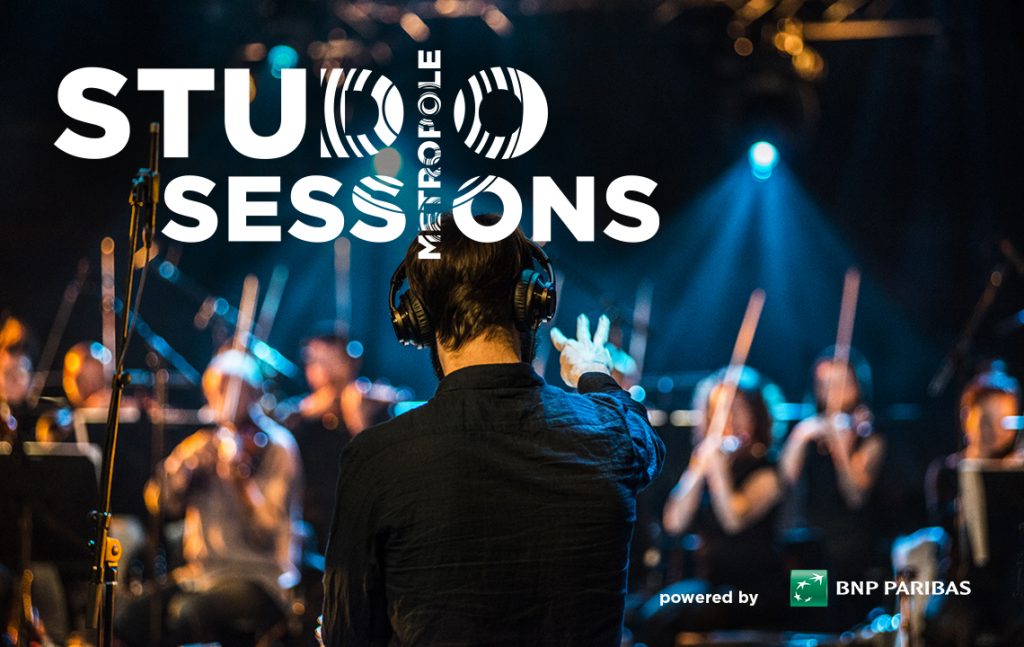 Starting from next week, Metropole Orkest will be live performing again. Under the name of 'Metropole Studio Sessions', the orchestra conducted by chief conductor Jules Buckley, will give three concerts from the studio in Hilversum. The audience can attend the concerts online via streaming. Ticket sales for these concerts start today.  
Jan Geert Vierkant, managing director Metropole Orkest: "We are very happy we can be on stage again and perform for an audience, even though it's not with the entire orchestra. Metropole Orkest is constantly looking for ways to bring our music to our audience. The online streaming of concerts makes it possible to share our music with people all over the world for just a small donation."
The concerts can be easily watched online via computer, mobile phone, Chromecast or Apple TV. For these concerts, Metropole Orkest works together with Ticketmaster and online video platform VIXY. The 'Metropole Studio Sessions' are made possible by BNP Paribas, main sponsor of Metropole Orkest.
Wednesday June 3 – 8.30 pm (CET)
Metropole Studio Sessions: I've got the world on s atring
During the concert, the strings of the Metropole Orkest play a couple of well known jazz standards such as 'Angel Eyes', 'Laura' and 'Dancing in the Dark'. In addition, they will play a couple of compositions by composers such as Dolf van der Linden, Jerry van Rooyen, Rob Pronk and Vince Mendoza. These pieces will be written especially for the MO Strings. During this project we will present a couple of top soloists from the orchestra. You will see and hear concert master Arlia de Ruiter, trumpet player Rik Mol, piano player Hans Vroomans and saxophone players Leo Janssen, Sjoerd Dijkhuizen and Paul van der Feen.
Wednesday June 17 – 8.30 pm (CET)
Metropole Studio Sessions: Tribute to Clifford Brown and Charlie Parker 
In the 50's, trumpet player Clifford Brown recorded his album 'Clifford Brown with Strings'. A beautiful record with famous jazz standards like 'Yesterdays' and 'Embraceable you'. Conducted by Jules Buckley, the orchestra will honour this legendary trumpet player who passed away way to early. Together with our own trumpet player Rik Mol and alto saxophone player Paul van der Feen they will play arrangements from his album that are arranged by top arranger Neal Hefti. Next to this, alto saxophone player Paul van der Feen will play some pieces of the album 'Charlie Parker with Strings'.
Wednesday July 1 – 8.30 pm (CET)
Metropole Studio Sessions: Tribute to Charlie Haden
Ten years ago, the MO Strings, conducted by Vince Mendoza, played a wonderful project with bass player Charlie Haden and his Quartet West at the Doelen in Rotterdam. Six years after his passing, we would like to put his music in the spotlights again. During this live concert, our own bass hero Aram Kersbergen and tenor saxophone player Sjoerd Dijkhuizen will play a very important role. You will hear songs such as 'Detour Ahead', 'Blues for Alice' and 'Nightfall'.
More information about ticket sales can be found in our calendar.
Published: Thursday May 28 2020