The first trip with our brand new Metropole Bus!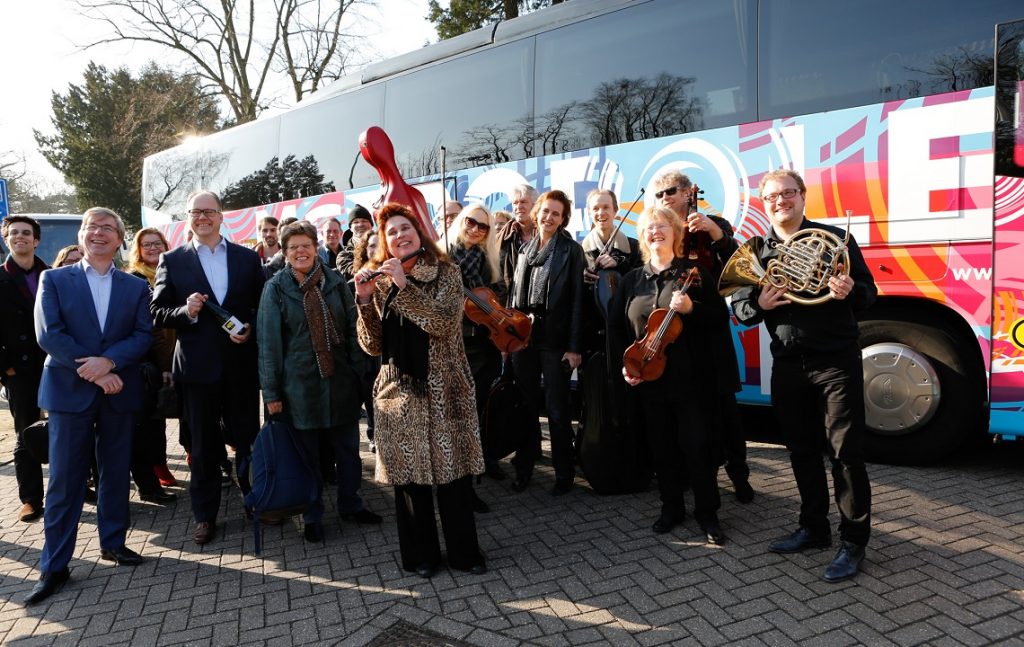 Today we announced a new collaboration with Oad as our official bus transportation partner. As of now, the tour operator provides bus transportation for the orchestra to concerts in the Netherlands and abroad. This partnership also enables Dutch music lovers to come to the concerts abroad.
Frans Schuitemaker (director Oad) and Marc Altink (director Metropole Orkest) have officially "baptized" the bus. After the festive revealing, the bus was immediately used to bring the 52 musicians to the Cross-Linx festival at de Doelen in Rotterdam. The cooperation was contracted for three years.
Music lovers traveling abroad
Dutch music lovers can now travel to the MO concerts abroad with Oad, including hotel and transfers. This way Dutch music lovers can combine the concert with a cultural multi-day city trip. Oad offers city trips to Paris for a concert with MO and Snarky Puppy at the Olympia theatre and to Berlin for a concert with Gregory Porter and MO at the Citadel Music Festival. The travelers will also enjoy many extra's such as a meet and greet with the artists or attending the sound check. For more information and reservations please visit www.oad.nl/mo (website in Dutch).
Unique partnership
Marc Altink, director of the Metropole Orkest: "We are very pleased with this new collaboration. Not only because Oad makes sure that our musicians arrive well-rested and relaxed at the concerts, but also because this collaboration gives us the opportunity to bring our Friends and other music lovers to our concerts abroad".
Frans Schuitemaker, director of Oad: "The collaboration with the Metropole Orkest is a great example of the way Oad closes partnerships with various organizations, outside of the travel industry as well. We aim for effective partnerships for our clients. The collaboration with the Metropole Orkest gives us the opportunity to create special journeys, such as the musical trips to both Paris and Berlin. The music obviously comes from the orchestra but the service and extra's by Oad makes a complete experience for the travelers".
Metropole bus
Oad wants to make sure the musicians arrive at the venues well-rested and relaxed, therefore they offered an extra comfortable bus including an extensive entertainment system with a screen in the back of every chair. The system includes 80 movie channels, 10 music channels, internet access, games and a route planner. The MO also gets its own music channel.
About Oad
From the main office in Goor (NL) about 200 enthusiastic employees organize daytrips and bus tips, tours, trips to Disneyland® Paris, river cruises and themed arrangements. Both for customers who prefer to travel individually as well as customized group travels. Oad has renewed and confirmed their partnerships in the Dutch traveling scene and received quality certificates and acknowledgement from SGR and ANVR. Due to these actions, the market position has been reinforced and ambitions to grow are being achieved. www.oad.nl
Published: Friday February 13 2015