Quincy Jones Prom, een terugblik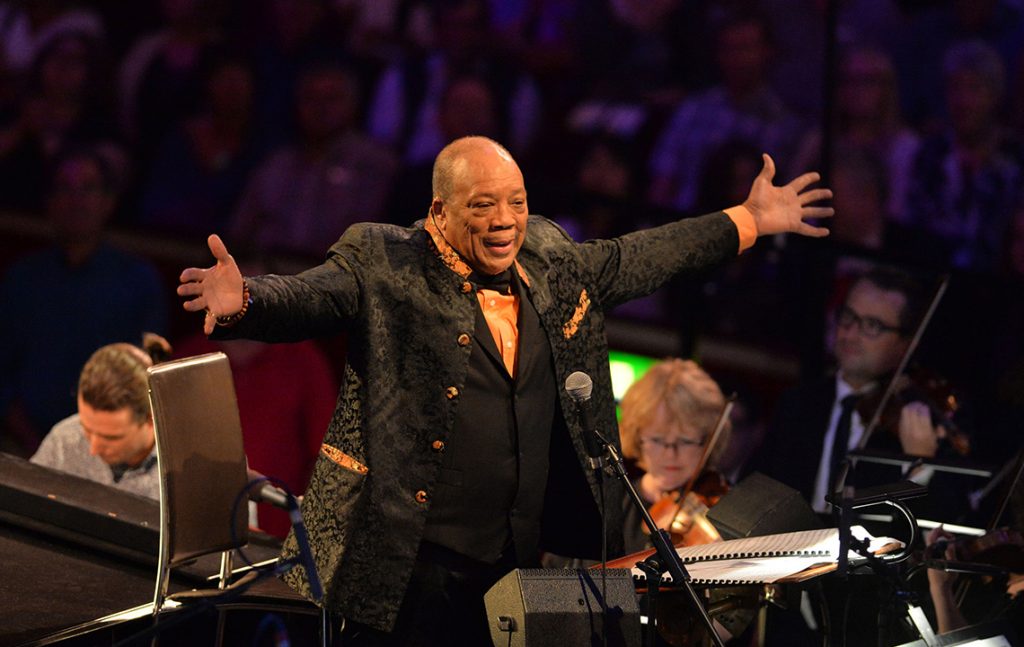 Zodra de laatste nooit van Let The Good Times Roll klinkt lijkt de Royal Albert Hall te ontploffen. Het Metropole Orkest, gedirigeerd door de levende legende Quincy Jones zelf – samen met multi-instrumentalist Jacob Collier, zangeres Laura Mvula, pianist Alfredo Rodriguez and bassist/zanger Richard Bona – eindigde deze BBC Prom 49 met een nummer dat Jones bijna 60 jaar geleden voor Ray Charles arrangeerde. De respons van het publiek was overweldigend, zo overweldigend dat presentator Clarke Peter zichzelf amper nog kon verstaan. Een waar "seismic ending to a memorable concert". (Classical Source)
Het Metropole Orkest onder leiding van Jules Buckley bracht met solisten Collier, Mvula, Rodriguez, Bona en Cory Henry nieuwe interpretaties van nummers uit het repertoire van Jones en eerden daarmee zijn rijke carrière. Volgens Classical Source slaagden ze in "making this a programme for the present rather than merely a retrospective".
"If Quincy Jones is not amongst the greatest artistic figures of the post-war era, he is assuredly one of the most versatile. Just how versatile was the concept underlying this Prom – in which jazz, soul and funk rubbed shoulders with big band, hip-hop and soundtracks for a more than plausible overview of Jones' creative legacy." (Classical Source)
"This concert never stopped, surging ever forward and changing gears as smoothly as a sports car." (The Arts Desk)
"Dutch-based jazz and pop ensemble Metropole Orkest added lush ballast, percussive cadence, harmonious decoration and acrobatic string crescendos, while a series of star turns were tastefully deployed to breathe new life into the songs." (The Telegraph)
"De al zeer kritisch bekend staande Jones ging twee jaar geleden in op een uitnodiging van het North Sea Jazz Festival. Ook toen speelde het Metropole onder leiding van Buckley en dat beviel Jones zo goed, dat hij nu ja zei. (…) Na de repetitie laat Quincy Jones zichzelf ook even zien. Hij straalt van oor tot oor. "Bent u blij?", vraagt producer Gert-Jan Blom. Meer dan dat, antwoordt Jones, "beyond happy"." (De Volkskrant)
"Om lof en aandacht zat het Metropole Orkest ook gisteravond weer niet verlegen. De 83-jarige (Quincy Jones) … stond erop dat het Nederlandse ensemble zijn feest zou opluisteren. Hoezeer het MEtropole Orkest over de grens ook naam en faam geniet, de toekomst van het vijftigkoppige gezelschap is verre van zorgeloos." (Algemeen Dagblad)
"The young singer-pianist Jacob Collier added a spirited reading of In the Real Early Morning, and the pianist Alfredo Rodriguez – another Jones protégé – fitted neatly into the Afro-Cuban contours of Dizzy Gillespie's Manteca." (The Times)
"Quincy Jones told an interviewer in the past, that he didn't want to be the kind of jazz musician who grumbled about the predominance of pop music – he wanted to influence it. (…) The proms paid him tribute not just as one of the most influential figures in African American music, but as a humane and generous mentor, and much-loved contemporary artist. Holland's versatile jazz/classical Metropole Orkest often became a giant funk band under Jules Buckley's baton (…) This memorable gig paid heartfelt and thoughtful tribute to Jones' extraordinary legacy." (The Guardian)
Met de nummers Chump Change and Manteca eerden het Metropole Orkest, de solisten en Quincy Jones de maandag overleden Toots Thielemans. Een goede vriend van het orkest en Quincy Jones.
Gepubliceerd: donderdag 25 augustus 2016