Asha Bhosle – the Nightingale of Asia
U bekijkt een pagina over een concert dat al heeft plaatsgevonden.
Klik hier om naar de actuele concertagenda te gaan.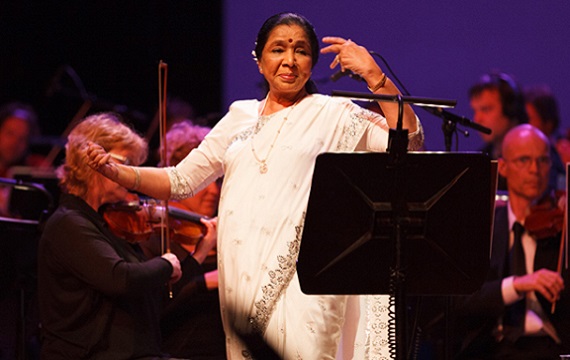 Metropole Orkest
Maurice Luttikhuis, dirigent
Asha Bhosle, zang
Due to the release of our album 'Asha 80', we'll be giving 3 concerts in both the Netherlands and France.
The collaboration between Asha Bhosle, the 'Nightingale of Asia', and the Metropole Orkest began last year when we played a sold out show in honor of her 80th birthday.
Asha was added to the Guinness Book of Records as the world's most recorded artist. She has recorded over 14.000 (and counting!) songs. We'll be playing many golden oldies from this gigantic repertoire!
————————————————————————
Asha Bhosle, le "Rossignol d'Asie", donnera trois concerts exceptionnels, accompagnée par le mondialement renommé Metropole Orkest dirigé par Maurice Luttikhuis aux Pays-Bas et en France au printemps 2014 afin de fêter la sortie de leur prochain album (qu'ils ont enregistré ensemble récemment).
La plus grande diva de Bollywood et le Metropole Orkest se produiront sur scène le 3 Mai au Royal Theatre Carre d'Amsterdam, le 4 Mai au Anton Philipshall de La Haye et le 8 Mai au prestigieux Théâtre du Châtelet à Paris.
Cette coopération a débuté l'année dernière à l'occasion de la célébration de son 80e anniversaire sur la scène du Worldforum à La Haye. Depuis, la diva indienne octogénaire a été récompensée par le Guinness Book comme étant l'artiste la plus enregistrée au monde.
Même après plus de 14000 enregistrements, elle reste toujours débordante d'énergie. Elle a demandé à l'organisateur néerlandais Live in Europe de produire l'album ainsi que la tournée européenne. Tous les plus grands succès de sa fantastique carrière seront au programme, aggrémentés de nouveaux arrangements spécialement écrits par le Metropole Orkest.
Concerts
Sat 3 May, 8:00 pm
Koninklijk Theater Carré, Amsterdam
Sun 4 May, 2:30 pm
Dr Anton Philipszaal, Den Haag
Thu 8 May, 8:00 pm
Théatre du Chatelet, Parijs